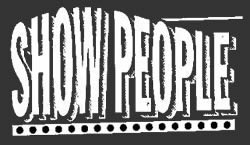 "CLASSIC GREEK HERO"
THE STAGE
---
Nikos Dionysios has been acclaimed as the finest Greek actor of his generation, and labeled "a classic Greek, living at the end of the 20th Century". But he has also had international success and is drawn to Beckett as well as Euripides. He originally trained as a dancer and then won a scholarship from the Art Theatre of Athens. Then he was the lead actor in the Festival of Athens for two successive years performing tragic heroes from both ancient and contemporary literature. He went on to perform internationally but has now settled in London and has a number of different projects on the boil.
His one-man show Rite of Passage, which has previously impressed audiences in Hong Kong and Canada, opened for a three week run at the Bridewell Theatre on April 15. It sounds like the perfect showcase for Nikos' tragic artistry, as it follows an actor who is preparing for an audition and runs through extracts from Waiting for Godot, Hamlet and Euripides.
Last Saturday he appeared on stage at the Royal Albert Hall in support of the Medical Society for Victims of Torture. Co-written with Fivi Fildissi the show made use of the poetry of Pablo Neruda and Beckett. among others, and was accompanied by ancient Greek music performed by Edward Beckett, the playwright's nephew.
Nikos refers to experiences witnessed during the dictatorship in Greece but steers clear of details. "Things happened to me of course, and to my family, but that's not the important thing. It's the whole experience. It's not only the body that's in pain, it's the mind as well." Other projects which he has lined up include a new translation of Euripides' The Bacchae, and a production titled Aeon and the Skeleton which will ambitiously set out to explore the ''subject matter of the 20th Century" , using the music of Xenakis who Nikos describes as the founder of modern classical music. "It's a little bit embarrassing to talk about these things but for me poetry is very basic," he says. "I'm trying to keep ritual alive on stage. I don't know how British actors think about this but I know there's a great reputation about British theatre, and I have seen a great tradition. That's why I'm here - it's a crossroads."

THE STAGE, APRIL 23, 1998