Eleftherotypia - Article
"The Birds" in Canada
---
The Stratford Festival of Canada, one of the largest theatrical organizations in North America, presents the "Birds" by Aristophanes, directed by Nikos Dionysios our compatriot.
The play is currently being performed on stage in Dudley Fitts' translation, faithful to the Aristophanic text, without innovations. So, until September 17, the visitors of the festival will coincide with the world of Pistheteros, who forgot his dream and they'll find out what exactly led him to the world of birds.
According to the director of the performance the goal is to show the political speech of Aristophanes and his timeless symbolism.
Besides directing the performance, Nikos Dionysios also puts his signature on the choreography as well.The sets and costumes are by Teresa Przybylski, music by Michael Vieira and assistant direction by Fivi Fildissi.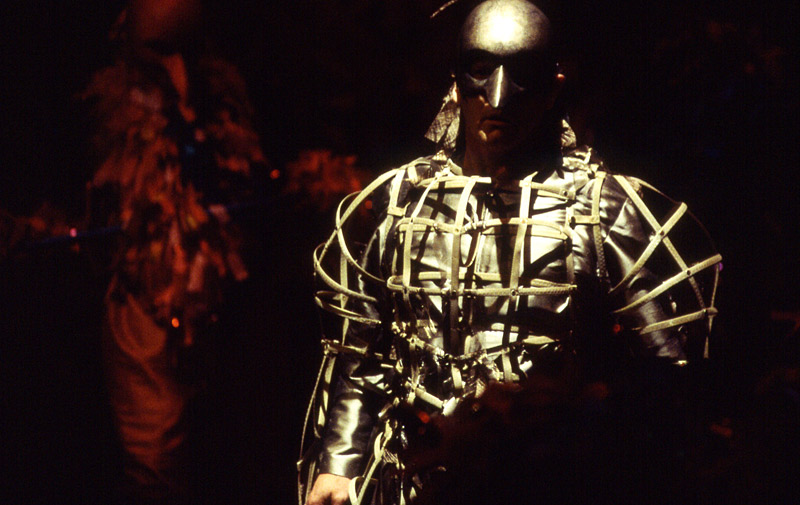 The two leading roles are cast by Kieth Dinicol (Pistheteros) and Bernard Hopkins (Evelpides).
The surname of the director, Dionysios, might not be familiar to younger theatregoers. It is the name of his late father with which he has signed his career with abroad for the last decade.
As Nikos Mitrogiannopoulos though, many will remember him because of his successful collaboration with the Popular Experimental Theatre by Leonidas Trivizas but also with other theatres (Orestes in "Orestes" by Euripides, Eteocles in "Seven Against Thebes" by Aeschylus, Slink in "the Jungle of the Cities "by Brecht, Alcibiades in" Timon of Athens "by Shakespeare with Dimitri Horn, Euripides in "Thesmophoria "by Aristophanes, etc.)
His last work in Greece, over a decade ago, was "Ephemera" an original play based on birth, love and death, coupled with the poetry of Nikos Engonopoulos. In Toronto, where he lived for several years, he re-staged "Ephemera" with poetry by Margaret Atwood and last year he performed "Ephemera" in London and Edinburgh with the poetry of Harold Pinter.
In Canada he wrote and directed the projects "Bolero", "Masks" and "Bread of words" amongst others. Currently he's living in London where he teaches tragedy, modern theater and movement at the Royal Academy of Dramatic Art, London Actors' Centre, Goldsmiths University, etc.
ELEFTHEROTYPIA - 03/07/2003